Rob Heaton (B.Sc. Pharm)
Pharmacist and Owner
Getting his start in the industry at the ripe age of 10 working as a stock boy at a local pharmacy, Rob has been the owner at Cambrian Pharmacy since the 1990's and celebrated it's 50th anniversary in June 2009. He acquired is Bachelor of Science in Pharmacy from the University of Alberta.
Congratulations to our owner Robert Heaton on being recognized as a Business in Calgary Magazine Leader. Watch the video here. As well as the PCCA Compounding Pharmacists of the Year 2017!
---
Jennifer Bridges
Store Manager
Bio coming soon.
---
Olga Dmytrisin (B.Sc. Pharm)
Certified Diabetes Educator & Pharmacist & INR Specialist & Certified Stocking Fitter
Working at Cambrian Pharmacy for ten years, Olga Dmytrisin has been a familiar face to many of us. With a Bachelor of Science in Pharmacy, Olga has continued her education throughout her forty years of experience. She is a certified diabetes educator, as well as a compression stocking fitter. On top of those achievements, Olga is also a BHRT consultant, and has a certificate for immunizations and injections. And most recently has gained her additional prescribing authorization.
---
Anwen Fong (Pharm. D)
Pharmacist
Bio coming soon.
---
Kathy Burniston (B.Sc. Pharm)
Pharmacist & Aseptic Compounding
Kathy has been working as a pharmacist for 24 years, 14 of those years at Cambrian Pharmacy. Focusing on pain management, Kathy is a valuable member of our team, working with patients to ensure their needs are met. She also specializes in sterile compounding, utilizing our on-site sterile compounding lab to create customized prescriptions for patients who have specific needs. In her spare time, Kathy enjoys spending time with her friends and family, going hiking, gardening, and reading.
---
Mathieu Giroux (Pharm. D.)
Pharmacist and Certified Immunization and Injection
Mathieu graduated from the Université de Montréal in 2015. After working in Montreal for 2 years, he moved to Calgary and joined the Cambrian team. In 2014, Mathieu retired from sport after having competed on the National Team in speed skating for 11 years. He is a 2-time Olympian (Vancouver 2010/Sochi 2014) and won a Gold medal at the Vancouver 2010 Olympics in Team Pursuit. With high performance sport as a background, Mathieu embraces the fundamentals of healthy living and is fully dedicated to make sure his patients reach their own personal health goals
---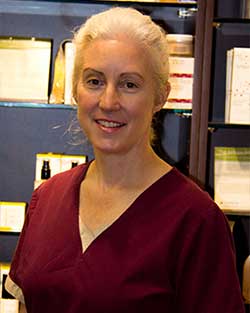 Diane Young
Certified Pharmacy Technician & Compounding Specialist
Cambrian's compounding specialist, Diane Young, has been working with our company for over ten years. She provides specific medication to each patient in Cambrian's own compounding lab, and has over thirty years experience in the field. Diane has specialty training in pain management, as well as flavoring and pediatric medications.
---
Jen Tuck (R.Ph. T.)
Registered Pharmacy Technician
Jen Garland completed her licensing exam to become a Registered Pharmacy Technician at Norquest College. She has seven years experience, and has been working at Cambrian Pharmacy for over five years, specializing in compounding (including sterile compounding) and compression stocking fitting.
Currently on maternity leave- congratulations Jen!
---
Alexie Millar
SkinCare Specialist
As a certified esthetician with 7 years experience in the industry, Alexie has recently joined the team at Cambrian Pharmacy. She is also certified in reflexology and has some background in nutrition and herbology. In her personal life she is a classically trained vocalist, fluent in French (native language) and has a love of art. Raised on a ranch is Saskatchewan, she now calls Calgary home.
Currently on maternity leave. Congratulations Alexie!